How does the mind_IP method work?
1. Integrating, holistic product life cycle approach – without breaks
Methodically, the central component is the consideration of the PRODUCT JOURNEY of each product as a holistic life cycle without breaks, which, similar to a life, is divided into:
a) the CREATION JOURNEY
(ideas, developments, product enhancements)
b) the MARKET JOURNEY
(product on the market, at the retailer and at the end customer)
The PRODUCT JOURNEY is not simply understood as a linear, one-time event, but as a constantly repeating, circular process.
Thus, this process reflects the life cycle of a product and the entire product portfolio 1 to 1.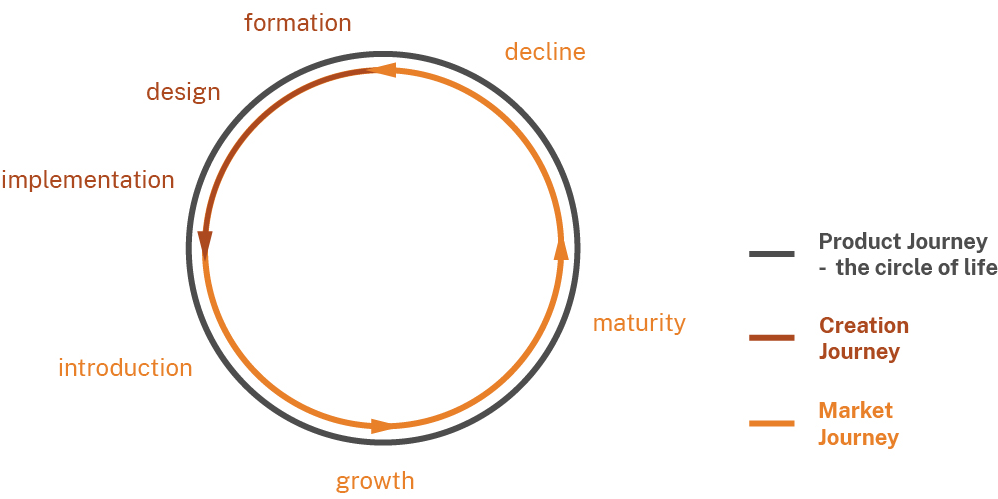 2. Systematic combination of data/facts with the expert knowledge of employees to form insights
The "engine" und die "drive shafts" of the PRODUCT JOURNEY are the employees in their function as internal experts as well as the decision makers.
To this end, mind_IP within the framework of the PRODUCT JOURNEY:
1. selectively accesses the current state of knowledge and insights on the  PRODUCT-PORTFOLIO
and links these
2. with the experienced EMPLOYEE POOL, the respective experts of the departments involved in the PRODUCT JOURNEY and their specialist expertise.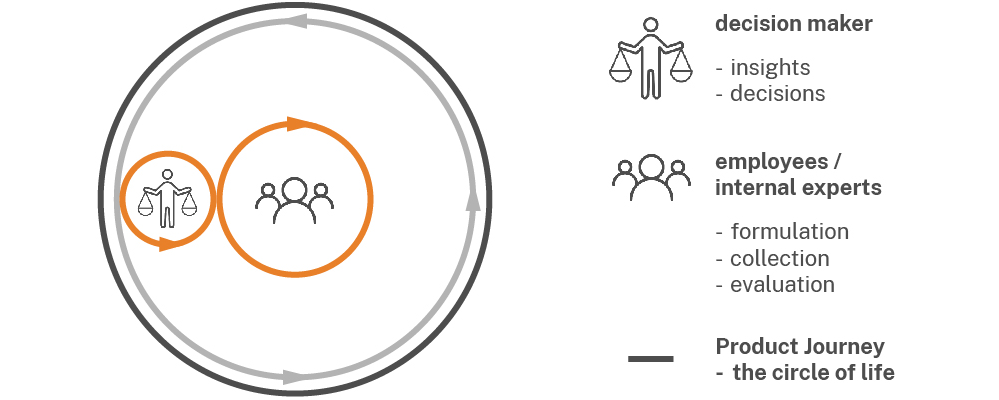 3. Acquisition of any kind of impulses, objective evaluation in holistic view, according to always valid criteria
The "spark" that drives the engine and thus gets the PRODUCT JOURNEY going are internal and external IMPULSES of all kinds that find their way into the tool at defined TOUCHPOINTS (TP) where they
1. document the current state of knowledge regarding the PRODUCT PORTFOLIO in terms of pure data analysis, making it visible and evaluable in the form of key figures
2. enable internal experts to evaluate product ideas and product developments that have arisen and are arising from the latest IMPULSES with their respective technical expertise
to evaluate them factually and thereby to assess and value their future potential
to pass on these values to the decision-makers as constructive

insight

for the further PRODUCT JOURNEY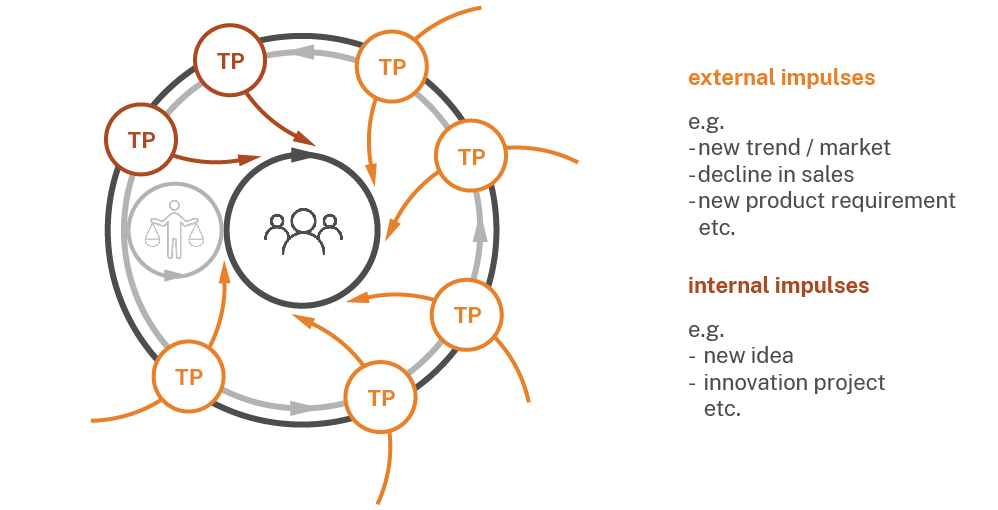 4. Reliable decisions based on the company's entire knowledge and insights
The instrument thus gives decision-makers the opportunity and at the same time the security to
1. to make their decisions concerning the product portfolio for the first time on the basis of the entire state of knowledge and understanding in the company
by
2. the current status of the product portfolio and the current product developments together with the possible potentials behind them transparent as well as objectively comparable with and among each other!
Frequently asked detail questions:
What is behind the method?
– I want to know more
Our company is very special
– for which companies is mind_IP applicable?